Sun, Sand, and Summer Conferences!
September 5, 2023 •Avalon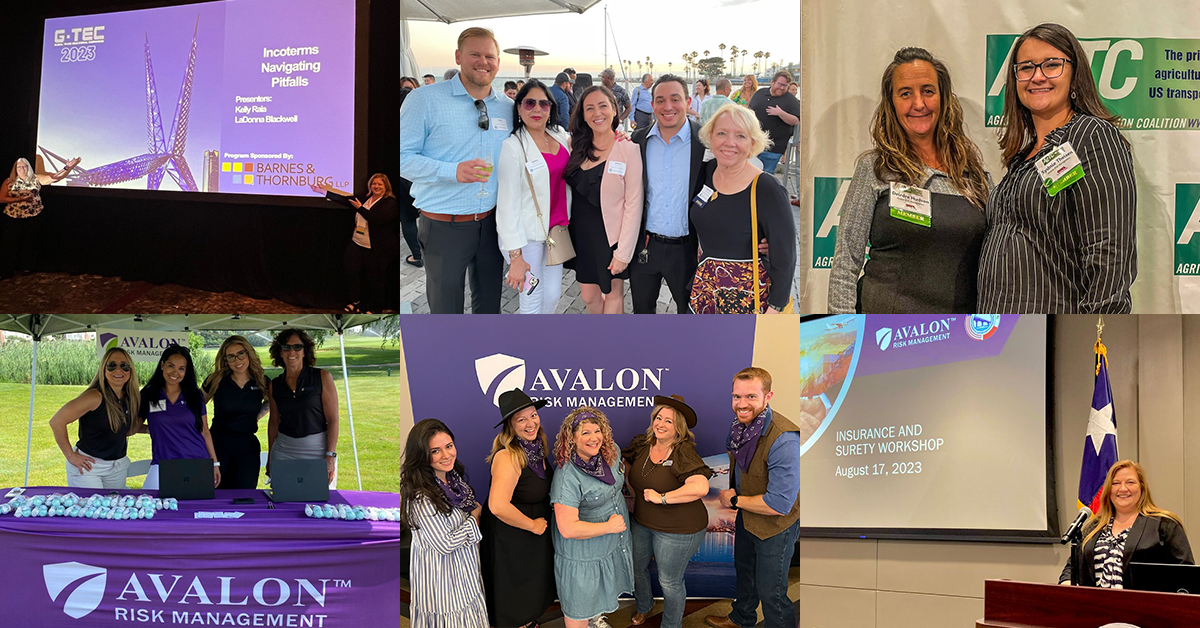 Who says work can't be fun? Avalon has been busy coast to coast this summer networking and attending industry events. From AgTC's Annual Meeting in Tacoma, to golfing with the Chicago International Air Cargo Association, mingling at a Summer Mixer in Los Angeles with the Customs and Freight Brokers Association, and even presenting an Insurance & Surety Workshop in Laredo – Avalon folks have been out in full summer force!
Most recently Avalon had the opportunity to attend and present on several key panels during the G.TEC 2023 conference in Oklahoma City. As always, the G.TEC conference was packed with great networking and back-to-back informational panels. Following are highlights from a few key sessions that touched on hot industry issues and gave attendees some cool and insightful take-aways.
Bonds: "The Changing Financial Landscape"
Many importers are feeling financial pressure due to factors like rising interest rates, inflation, and increased Section 301 duties. Sairah Khan, Avalon's Surety Underwriting Manager, emphasized the importance of thorough underwriting for importers who require larger bonds and/or bonds that are considered higher risk. She explained to the G.TEC audience that bonds, unlike insurance, provide a financial guarantee, making it crucial to exercise caution in the underwriting process. It is also imperative for importers to review and forecast their import activity and expansion plans with their trusted Customs Broker. This type of review can help determine proper bond amounts, avoid large bond stacking liability, and assists sureties in monitoring risks appropriately.
AD/CVD Trade Remedies Update
The topic of Antidumping and Countervailing (AD/CVD) duties made a few waves at G.TEC as the lively panel discussed the new Scope and Circumvention proceedings. The updated scope regulation now expressly allows for "country-wide" Scope Inquiries.
In November 2021, the DOC for the first time codified a Circumvention regulation. The regulation now expressly allows for "country-wide" Circumvention Inquiries. Several country-wide Circumvention Inquiries have been initiated in 2022 and 2023 (primarily involving products from China completed or assembled in Southeast Asia).
Additionally, the panel emphasized the impact of EAPA investigations in aiding CBP to detect over $600 million in AD/CVD duties owed to the US government.
Incoterms: Navigating the Pitfalls
Avalon's LaDonna Blackwell, presented G.TEC attendees with an informative session on Incoterms which emphasized the importance of using one of the 11 globally recognized trade terms in international transactions to define certain responsibilities of buyers and sellers. While Incoterms identify certain obligations such as risks, costs, and responsibility for loading – incoterms do not deal with imposition of tariffs or the transfer of ownership of the goods sold. For buyers and sellers to keep a sunny relationship, they need to address those items in their sales contract! Interestingly, the only two incoterms that mention cargo insurance obligations are CIF and CIP. Nothing will rain on your summertime parade like damaged cargo showing up at your warehouse and not knowing who was supposed to insure it! Speaking of insurance…
Next stop on Avalon's Summertime Road trip was - Laredo!
Christie Brush, Avalon's Vice President-Southern Region, presented an Insurance and Surety Workshop to the Laredo Licensed U.S. Customs Brokers Association. She covered a wide variety of topics which included Professional Liability, Executive Liability, Customs Bonds, Contract Considerations, Cargo Insurance and Claims.
Christie reviewed the very hot topics of onerous shipper contracts, the dangers of bond stacking liability, the importance of selecting a comprehensive Professional and Legal Liability policy, provided an overview of Bond Sufficiency, discussed the limited liability of carriers, the need to purchase Shipper Interest Cargo Insurance, and even reviewed various claims procedures. That impressive list of topics just underscores the importance of working with an insurance broker that specializes in insurance coverages for the logistics industry.
Where to Next?
Sadly, Summer can't last forever but that doesn't mean that the fun comes to an end. In September, Avalon will be on Capitol Hill twice - attending the NCBFAA's Government Affairs Conference and then on to the TIA Policy Forum. We hope to see you in D.C. as we learn about timely topics and help communicate to our Senators and Representatives the effects that regulations and politics have on the transportation industry.
The Quest Newsletter is designed to provide critical information in the transportation industry. Avalon Risk Management is not responsible for the accuracy or reliability of information contained in articles. The reader/user assumes all risk in the use of such information.