Federal rules and safety regulations are in place to protect the public while manning drones. To operate an Unmanned Aircraft System (UAS), commercial drone operators must be registered with the Federal Aviation Administration. Avalon provides a comprehensive risk insurance policy that protects an operator's drone machinery and the integrity of their company.
Remotely Piloted Aviation System (RPAS) Policy
Our customized RPSA policy is specifically written to cover Drones, UAVs, UASs, or any Remote Piloted System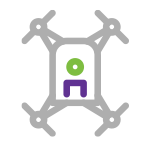 OUR PROGRAM CAN PROVIDE THE BELOW COVERAGES, OFTEN IN A SINGLE POLICY:
Third Party Liability
Third Party Property Coverage - Payloads
Hull Coverage
Ground System and Launch System Coverage
Property Coverage during Transit/Movement
Property Coverage for RPAS in Storage
War Risk
Coverage available in the USA, Canada and Globally.
Contact an Avalon representative for more information.