We are your trusted partner in Canada.
We are here for you.
Avalon Risk Management (Canada), Inc. has been writing surety bonds since 2009. For over 25 years, Avalon's US entity has been a premier provider of surety and insurance solutions for the trade and transportation industry. Serving logistics companies is all we do.
With changes on the horizon for Canadian importers, it's important to begin conversations with your surety bond provider. Therefore, Avalon Risk Management (Canada), Inc. has partnered with Zurich Insurance Company Ltd (Canadian branch) for the distribution and administration of D-120 Customs bonds.
Our Avalon Canadian representatives are RIBO licensed and available to assist with your insurance needs.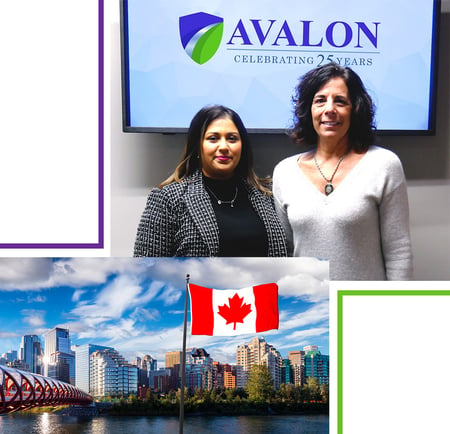 Avalon can help you meet the CARM bond requirements.
CBSA Assessment and Revenue Management (CARM) is a multi-year initiative by the Canada Border Services Agency (CBSA) to modernize, streamline, and transform the process of importing goods to Canada.
Part of the initiative requires importers to provide financial security in order to participate in Release Prior to Payment Program (RPP). Obtaining a Customs Bond satisfies this requirement. CBSA launched the CARM Client Portal, a self-service tool that will facilitate accounting and revenue management processes with the CBSA.
The CARM Client Portal is available to importers and brokers, as well as trade consultants who currently submit rulings on behalf of importers. Importers can create their portal account and delegate authority to their broker so that the broker can conduct business with the CBSA on an importer's behalf.
The CBSA has multiple resources on their website to assist importers and brokers such as FAQs, video tutorials, onboarding webinars, the latest information on CARM updates and more.
Merlin, our proprietary technology, has been developed to streamline the bond process. Merlin will save you time and money.

Solutions
We are proud to offer a range of services to protect you and your customers from the unexpected. In addition to importer bonds, we offer the following solutions such as Professional Liability, Business Insurance and Cargo Insurance solutions tailored to suit your needs.
Our Professional Liability insurance ensures that you are covered for any errors or omissions that may occur in the course of providing your services. Business Insurance is designed to protect you from liability claims against your property or assets, while Cargo Insurance covers any goods that may be lost or damaged during transit.
We understand the importance of having comprehensive coverage and are committed to helping you find the right solution for your business.