Interview with the Experts: Risk Management
April 11, 2018 •Avalon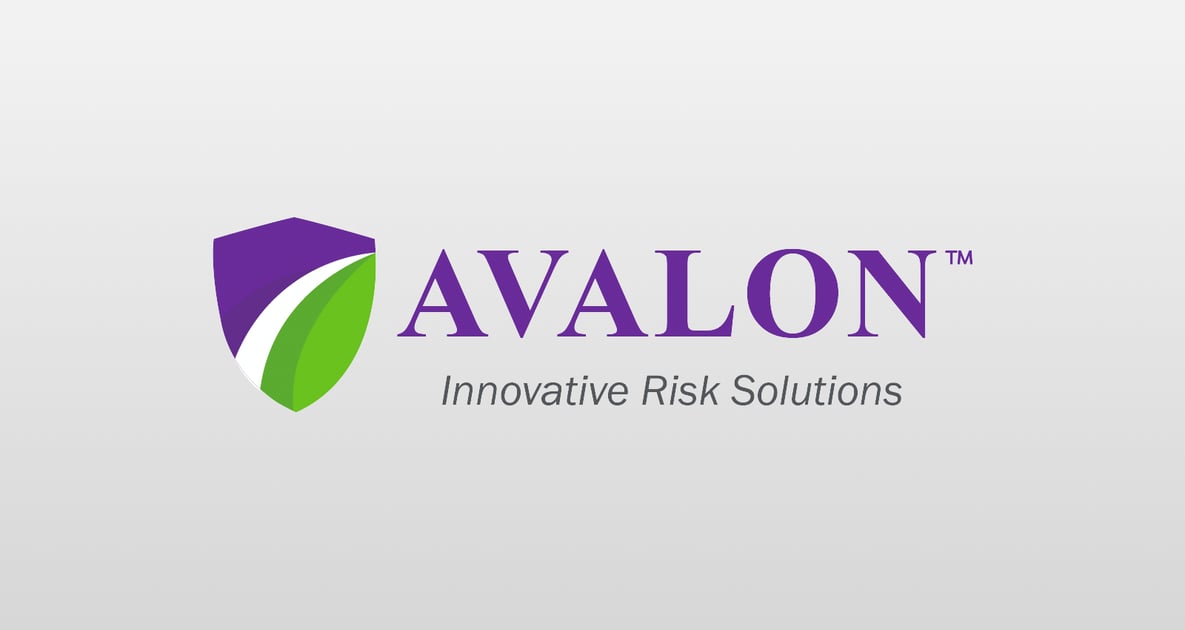 Michael Radice Risk Management Advisor
All businesses have risk and we generally accept it as a part of doing business. But did you know that you can decrease the frequency of having an adverse event and lessen its impact? This can be accomplished with a Risk Management Program. We chatted with Michael Radice, Risk Management Advisor at Avalon Risk Management, to uncover what risk is and what we can do about it.
Q: What is risk and risk management?
A: Risk is simply the possibility of an adverse event happening. It is in our daily lives and can range from large events, such as earthquake and fire, to a personal event, such as injury or illness.
Risk management is the process of avoiding, mitigating, or reducing risk. Its primary purpose is to develop strategies to manage, reduce, and eliminate the potential impact that creates negative consequences to the company's profitability or earning potential. Risk management is also a part of our daily lives, we just don't realize it. We face risk every time we get in our car. To further the example, when we take an alternate route because of heavy traffic, we are trying to mitigate the risk of being late and its consequences.
Q: What are some risks that are inherent within a business?
A: While risk doesn't fall into the "one size fits all" category, most businesses have these types of risks:
Hazard risk, including property
Financial risk, including contracts
Employment risk, including worker's compensation, harassment, and employee practices
Business risk, including errors and omission and failure to comply with SOP's
Q: If someone wants to assess their risk, what do they do?
A: To assess a risk, you first must identify it. Then understand the risk and analyze it. Through analysis, you discover the next steps in how to treat it and the methods that should be put in place to reduce or eliminate the risk.
Q: How do you treat a risk?
A: There are various methods to treat a risk and each company needs to decide which one is appropriate for their business and risk tolerance. These methods include:
Take preventative measures to prevent the risk.
Reduce the impact of the risk.
Transfer the risk to a third party through a contractual obligation or an insurance policy. Insurance, although necessary, is often used as a last resort and peace of mind tactic under a risk management program.
Choose to retain the risk by taking a higher deductible (to reduce expenses on insurance premium). Whether you should retain a risk depends on the company's appetite and the resources available to treat the risk such as a Security or Safety management team.
Q: Can you give me a few examples of how you can quantify a risk?
A: Quantifying a risk is difficult because it is more than just a value. Quantification is based on risk versus reward. It depends on whether that business opportunity or operational risk is going to be sustainable to the company's success and if there is continued risk. You're not just looking at the loss and expenses incurred, but also how frequently it occurs or how severe the impact can be to your profitability
Continued risk can have immense consequences because its liability doesn't end when the operation or transaction is completed. Take this example, you are a warehouseman and agreed to do business with a client that requires you to lease a warehouse space for five years. If the client stops doing business with you in two or three years, you can still be liable for the remainder of the lease. You may also be responsible for operating expenses or equipment that runs until the end of the lease. If you chose to cancel the lease and associated equipment, there can also be cancellation fees. So, you still have continued expenses, liability, and contract. Some contracts may even ask you to agree to hold insurance in place for a few years after the fact of the contract just in case there is a claim made against you long after your work or obligation is completed.
Q: How can you tell if a risk mitigation plan is working?
A: Once you put a preventive measure or technique in place, you need to make sure it's working. How do you do that? You monitor it. Continued monitoring of the risk and techniques and preventive measures that were put in place to address the risk allows you to see whether it is working and assess if the mitigation plan is fit for its intended purpose. If it doesn't work, you may need to investigate why and change it.
Q: How does a company decide whether they should manage risk in-house or hire a third party?
A: It all comes down to one factor, experience. If you don't have the necessary experience in risk management and loss prevention, then it's going to fail. It is also important to have requisite resources and time management capability. At the end of the day, if you want to manage risk properly, you need to have the appropriate experience in understanding the risks inherent within the business and the time needed to address the risk.
Q: What are some pitfalls to avoid when developing a risk management program?
A: First and foremost, the risk management program needs to be supported by the management of the company and driven throughout the organization. If it's not driven down within the organization, it's already failed. The organization needs to believe in it and hold people accountable. For example, if you cannot obtain management support of safety management (or any other applicable protocol) to improve safety culture, they're going to have worker's compensation claims regardless of how many safety posters or written procedures you put up.
Having a good framework will help avoid most pitfalls of a risk management program.
Q: It would be fair to say that you can't manage every risk. How do you decide on which ones to
focus on?
A: Yes, it would be very fair to say that! You cannot manage every risk and you're not going to want to. You should focus on the risks that have the most negative impact to your company's profitability. You should also look at where losses are frequent or severe. For example, you can take a look at your loss history and focus on where your liabilities and costs will affect your bottom line and profits suffer.
Q: Is there any way to mitigate risk events?
A: A strong start would be having a risk management program and a risk manager that understands the industry that you are in and the business risk that you are taking on. Alternatively, you can engage with a partner, such as Avalon's Risk Management's Risk Department, who have a strong knowledge in the industry and understands the various risks that affect your business.
Q: How does the program work?
A: Avalon's Risk Management program is a one stop shop for risk management where services are performed much cheaper than if you had to hire your own internal risk manager. Services include establishment of a best in class risk and insurance program, contractual review and corporate guidelines, and a risk management dashboard to review risks and monitor their progress.
For example, if I was to work with a Customs Broker, I would look at their importer vetting program, how much insurance are they're selling to their customers, bond claims, their insurance policy to ensure that they have the proper coverage in place, and cost and expenses that they are paying to third parties.
Other types of businesses, like freight forwarders and warehouses, have different risks and requires an analysis of different factors. These companies may have more risk liability because they are involved in a greater variety of operations than Customs Brokers. For instance, they have more physical assets like building and equipment, whereas a Customs Broker may just need an office, and freight forwarders and warehouseman may have more at risk when dealing with contracts.
Q: Any parting thoughts?
A: I am very happy to be working with Avalon in offering Risk Management Services. I am also very excited about the upcoming future development of the Risk Management Dashboard that will be rolled out in Merlin later this year! When the data is presented in charts and graphs, managers will look at it from a different perspective and notice risks that while they knew existed, haven't understood the frequency or severity. For example, you may currently get a claims report but when it's compared on a bar chart, you get a visual effect for clear comparisons. It will also allow you to easily drill down and look at specifics.
Don't assume that all risks are a negative part of your business. As you've read, risk can be managed to produce a positive impact on your bottom line and improve your business's overall operations. Speak with our Risk Management Advisor today.
The Quest Newsletter is designed to provide critical information in the transportation industry. Avalon Risk Management is not responsible for the accuracy or reliability of information contained in articles. The reader/user assumes all risk in the use of such information.